New Year's Marshmallow Roast
Our Little Corner of the Jungle
In the small village of San Bosco, just outside the Caribbean coastal town of La Alegria de Siquirres, Costa Rica, there is a place where travelers enjoy vacations, help with sustainable country gardening, swim in a large natural swimming pool, lodge for the night, listen to soothing sounds of rivers and birds, milk cows, and gather on the lodge veranda to worship God. That place is Mighty Rivers Eco-farm, a treasure of nature hidden along the banks of the smooth-rock, tumbling Rio Destierro (Exiled River) and the sometimes tranquil shores of Rio Perla (Pearl River), plumb smack in forever-verdant foothills of Costa Rica's second highest volcano.
Visitors to our village will be greeted by a small grocery store, a one room school house, and a tiny church. Tico (Costa Rican) country dwellers and Caucasian settlers constitute the estimated population of one hundred fifty people.
Mighty Rivers Eco-farm is graced by a interesting medley of farm animals and crops, operating in harmony with nature and people. The landscape is a rolling river bottom triangle surrounded by mountains and rivers, with a spectacular Volcano Turrialba backdrop. The farm is actually squeezed between the converging points of "our" two rivers, at the end of a gravel road.
Affordable B&B and Eco-tours at Mighty Rivers Eco-farm
Lodging: Bed and Breakfast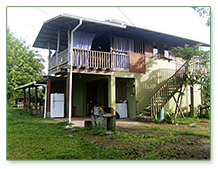 We offer simple accommodations that include a rustic bed & breakfast and a guided tour of our homestead in this tropical Caribbean setting in Limon Province, Costa Rica. You will experience immersion into local culture, cuisine and farm life amid a spectacular jungle setting. Our daily rate is $25 per person.
Eco-tours
Do you like adventure? We'll be happy to help you plan a tour of the area's volcanoes, beaches, waterfalls, and other must see attractions.
Exploring the Caribbean Region of Costa Rica
Learn from our first-hand experience the beauty of the unsung tropical wonderland.
For more information regarding your stay, please contact us.
There are many exciting things to discover at Mighty Rivers, so on your next visit to Costa Rica, please drop in! We can't wait to share with you the beauty and flavors of Mighty Rivers Eco-farm, served up in an interesting atmosphere of Indigenous, Pennsylvania Dutch, and Tico cultures. It's our goal to be responsible stewards of land & nature, to develop permaculture style sustainability in our neighborhood, and to encourage one another to walk in God's presence.