First Days in Costa Rica, Waiting in Town for a Farm
At the Farm, the Little Family
Nathan with Newly Planted Manu
Frontiers and Faith
To those of us who settled in Costa Rica in 2002, Mighty Rivers Eco-farm represents more than adventures in carving out a homestead in a Caribbean jungle.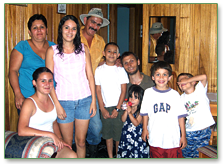 We were pioneers both in the literal sense of the word, and in the spiritual realm. We remember God's protection through difficult spiritual journeys, loss of a loved one, jungle pioneer life, cultural adjustments, and times of growth and forgiveness. We are humble witnesses of the metamorphosis of faith which began in the lives of people raised in Pennsylvania Dutch Amish tradition, and which continues to grow as we serve and seek God's will.
Today at Mighty Rivers we endeavor to draw into this exotic, tropical landscape people who want to experience a piece of Eden in a crazy world.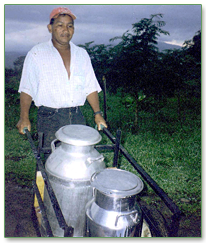 Our community in the jungle promotes sustainable living, holistic health care and family oriented fun. For those who want to participate, there are times of worship, praise, prayer and spiritual mentoring. We endeavor to be a shining, local expression of God's universal family.
We have a special appreciation for Costa Rica's tranquility, old fashioned ways of culture, and absence of strong federal government. Costa Rica has a long tradition for attracting peace loving people from around the world, and it's exciting to live in proximity to this kind of energy. The tranquil aspect of a jungle setting, relative freedom of Costa Rican culture, along with divinely warmed hearts of people all combine to make the farm a special place.
In a world where governments are fueled by money and religion, we at Mighty Rivers choose to follow the teachings of Jesus Christ.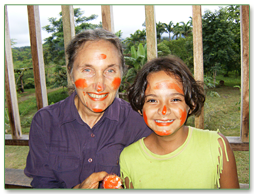 We encourage a life of blessing, sharing and worship in a way that helps us become sons and daughters of God, and partakers of His Divine nature.
We try to avoid the religion aspect of Christianity, along with conventional expectations of church. Jesus came to set people free – free from the bondage of religion, power, worldly kingdoms, and most significantly, our own selfish nature.
Mighty Rivers Eco-farm is a place where good-hearted folks share, contribute, live and learn. May God lead and teach us.
Read more about our Eco-Buildings.